About GAIT TRC
In 2022, GAIT TRC celebrated 27 years of providing services for our tristate area!
GAIT TRC began with a Board of Directors in 1995. In January 1996, GAIT TRC was incorporated by its founder and Executive Director, Ms. Martha S. Dubensky. GAIT TRC was formally organized as a Federal 501(c)(3) tax-exempt, nonprofit, charitable organization in June 1997.
GAIT's mission is "To improve the quality of life of children and adults with special needs through equine activities and therapies, resulting in a more independent life in society."
GAIT TRC accomplishes its mission using its specially trained horses, professional PATH International Certified Instructors, Equine Specialists, and dedicated, highly trained volunteers to provide equine activities and therapies for people with various disabilities.
GAIT TRC would also not be as effective without the assistance of our state-licensed physical therapists (PT), occupational therapists (OT) and speech-language pathologists (SLP) and credentialed mental health professionals. They are hired by GAIT TRC to perform Hippotherapy and other therapy services.

Who benefits from GAIT's services?
GAIT TRC was established so that people of any age with almost any disability could be addressed and aided by our equine activities and therapies. Our services and programs teach the participants to interact with others in positive ways, to communicate more effectively, and to improve their social skills.
Participants ages 2 – 80+ with cognitive, emotional, physical, and/or behavioral challenges are welcome, including those with but not limited to:
Children/ adults with developmental delays
Attention Deficit Disorder (ADD)
Autism Spectrum
Cerebral Palsy
Down Syndrome
PTSD
Multiple Sclerosis
Prader Willi Syndrome
Spina Bifida
Traumatic Brain Injury (TBI)
Cancer Survivors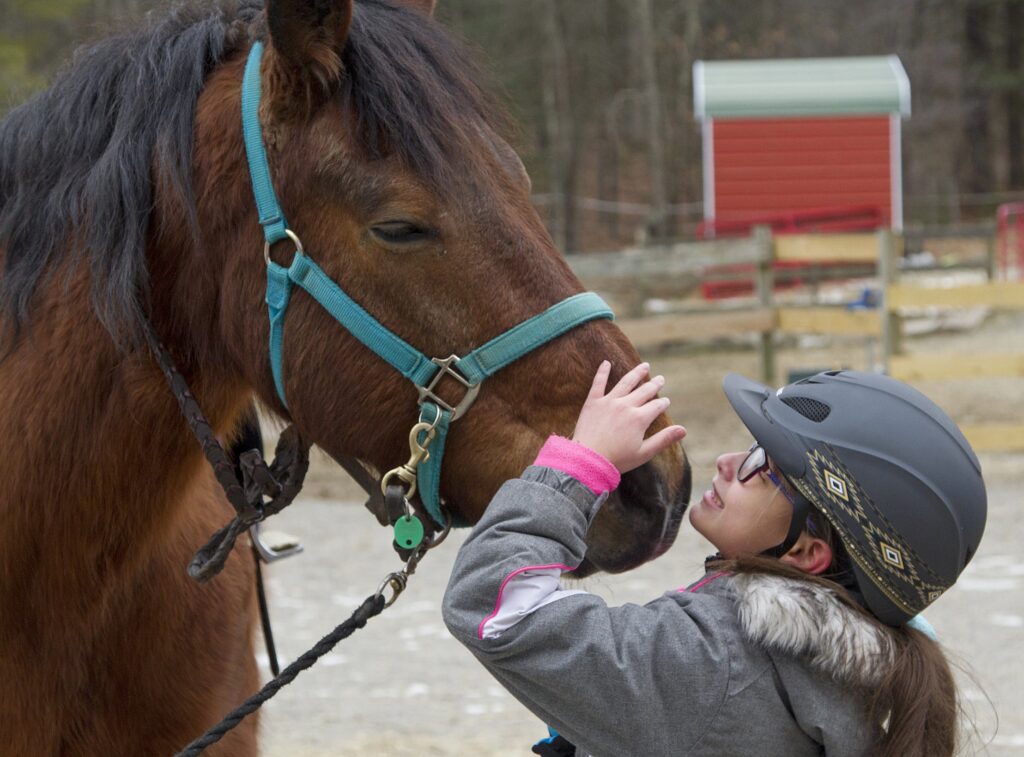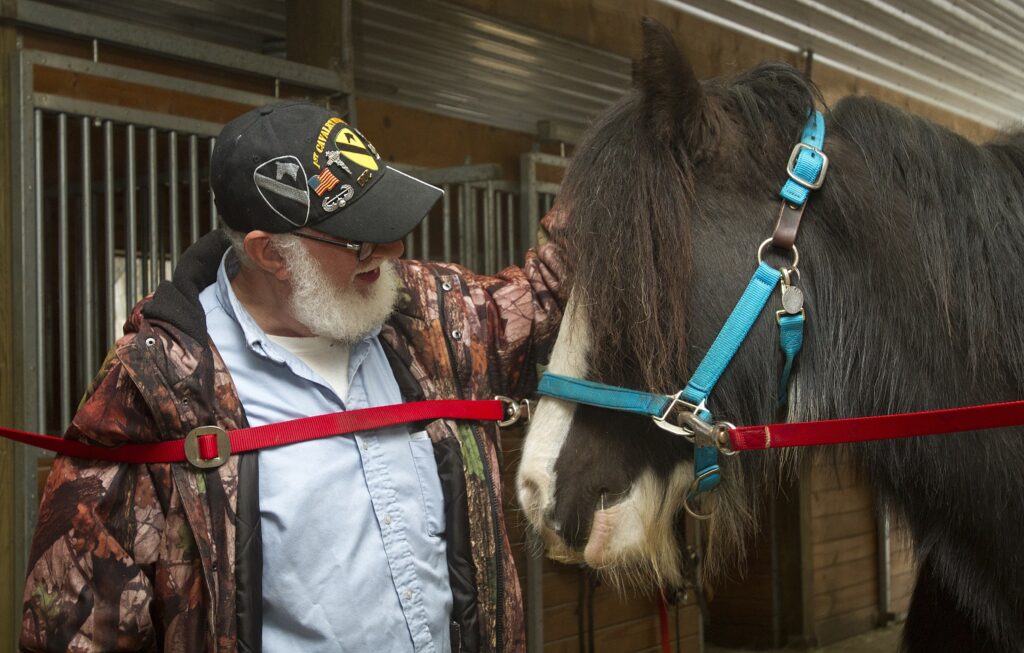 Additionally, veterans/service personnel, cancer survivors, and youth identified by their schools with "at-risk" behaviors benefit from our Equine Facilitated Learning and Equine Facilitated Psychotherapy programs.
Our Vocational Training Program helps young adults with special needs transition to other job sites and work opportunities.
The Two-legged Herd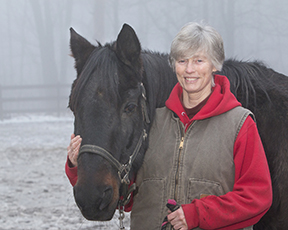 Martha Dubensky – Founder, Former Executive Director, Licensed Professional Counselor, Certified Life Coach, Addiction Counselor, PATH Intl. Advanced Riding Instructor, Mentor, Equine Specialist in Mental Health and Learning (ESMHL) and Faculty, Lead Evaluator for On-Site Workshop and Certification,
Martha Dubensky has loved and owned horses for most of her life. In 1983, she was introduced to horses providing therapy for people with disabilities at "Monique Stable" in Honesdale, Pennsylvania. Thirsty for more knowledge on this therapy, she volunteered at a program in Warwick, New York for several years and in 1994 became a certified PATH International therapeutic riding instructor. In 1995, she founded the GAIT Therapeutic Riding Center.
Mrs. Dubensky is a past PATH Intl. Region 2 Representative from 2009 to 2011. She is a Faculty Lead for PATH Intl. conducting Equine Specialists in Mental Health & Learning workshops. She is also a mentor for instructors-in-training and is a PATH Intl. Associate Evaluator conducting workshops and certifications for the therapeutic riding industry.
Mrs. Dubensky is also the Education Chairman of the Gifford Pinchot Audubon Society, a member of several Boards of nonprofit organizations and has been a Sunday school teacher for 2 decades. Martha graduated from the University of New Hampshire with a Bachelor of Science degree and Master of Science degree from Cornell University as well as a Master of Psychology from Capella University.

At the end of the 2022, Martha stepped away from her role as Executive Director and moved into a new role as the President of the Board of Directors.
---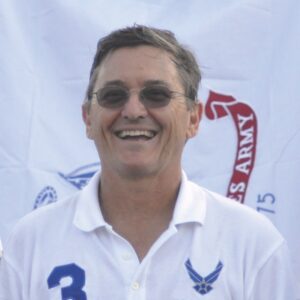 Peter Rizzo – Executive Director
Peter has taken on the role of GAIT Executive Director and will work with Martha and the other members of the GAIT Board of Directors to support and sustain GAIT's mission.
Peter is a second generation horseman and has owned and trained many horses used for a variety of purposes. In addition, he has a wide range of business experience as an executive director, CEO and board member for a number of equine non-profit organizations and is a certified equine appraiser.
---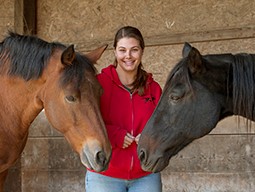 Diana Moldovan – Administrative Coordinator, PATH Intl. Certified Therapeutic Riding Instructor (CTRI), Equine Specialist in Mental Health and Learning (ESMHL), and Mentor
Diana has a history of working in health and equine industries. She began riding at a young age and had worked in many lesson barns to supplement her riding education. Diana became a volunteer at GAIT during her teen years and later worked at a nearby harness racing facility as a groom.
Diana studied English at East Stroudsburg University prior to working at the racetrack and moved on to work at an assisted living environment in 2008. While there, she acquired hands-on experience caring for individuals with both cognitive and behavioral challenges as a direct support professional, shift supervisor, and assistant resident manager.
Diana returned to GAIT in 2014 as an Instructor Assistant and Volunteer Coordinator, where she assists with maintaining and updating volunteer information, volunteer management, scheduling for Therapeutic Riding classes, maintaining website/Facebook, and more. As a Therapeutic Riding Instructor, Diana hopes to promote a better understanding of working with individuals with special needs as well as an appreciation for the horses and the amazing work that they do.
---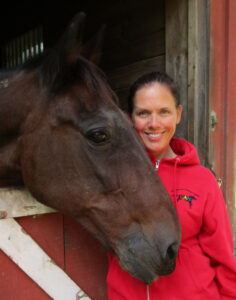 Sian Brown – Accounting Associate
Sian joined GAIT in 2017 as a general volunteer, helping around the farm. She quickly moved on to becoming a groomer/side-walker/leader when time permitted. In 2018 Sian evolved from a volunteer to a GAIT employee as bookkeeper. Over the years her role at GAIT has continued to expand. She is now responsible for organizing the GAIT ESMHL workshop, grant writing and fundraising, in addition to the day-to-day bookkeeping duties.
Sian began her career in finance on the institutional sales desk for convertible securities with the Merrill Lynch London office. After moving to New York City over 20 years ago, she moved into the commercial real estate business as a broker for both office and retail properties for JLL (fmr Staubach). Sian has two young boys and when not at work, is generally found on the sidelines of one of their sporting events. Sian grew up in England, and as a child spent her weekends and summer holidays at the local stables.
---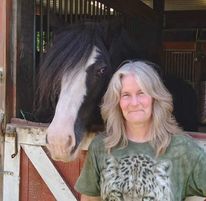 Dawn Benko – Stable Manager, Webmaster, Photographer, Equinology Equine Body Worker & Certified Equine Massage Practitioner, and PATH Intl. Equine Specialist in Mental Health and Learning (ESMHL)
Dawn is a recovering photojournalist, after leaving a 30+ year career in the newspaper industry. She began volunteering for GAIT in 2015, where she rediscovered her love of horses, and remained in that role until 2019 when she was hired as a part time barn manager.
Determined to follow an equine related career path, Dawn has become a certified equine bodyworker and massage practitioner and became certified as a PATH Int'l Equine Specialist in Mental Health and Learning in October, 2022. She'll do just about anything for you, if you bring her cookies.
---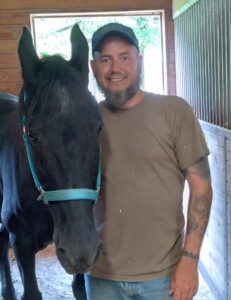 Steve Seaman – Site Manager and Veteran Peer Support
Steve is an Army Veteran of 21 years. He enlisted after high school in 1993 and retired a Master Sergeant in 2014 where he held numerous leadership positions.
He started with GAIT in late Summer 2019 in GAIT's program for Veterans and shortly after, he was hired as part time Stable Manager. Besides managing GAIT's horses and property; he also provides Veteran peer support, mentorship to the children that participate in the school programs, and also Camp Lee Mar participants.
---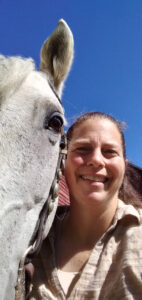 Jan Lucciola – Development Associate
Jan Lucciola became a volunteer at GAIT in 2000 as a side-walker, leader, and special event warm body and gofer. Having been involved in development with two other non-profit organizations, she joined GAIT staff in 2021 to help promote GAIT. Jan asked for a horse when she first started talking and didn't stop asking. Now, she shares 3 horses with her husband, a professional horse trainer, helps with his students, and enjoys competing in Western Dressage. She is also the Associate Director of the Delaware Valley Raptor Center. She has a Bachelor of Science Degree in Biology from Southwestern College.
---
Jenny Bowden – Licensed Speech and Language Pathologist and PATH Intl. Registered Therapist
Jenny teams with a PATH Intl. Certified Riding Instructor and a GAIT horse to provide speech and language therapy by utilizing the horse's movement to achieve functional outcomes.
---
Vera Remes – PATH Intl. Certified Therapeutic Riding Instructor (CTRI), Mentor, Equine Specialist in Mental Health and Learning (ESMHL) and Faculty, Certified Teacher of the Handicapped (TOH), Certified Learning Disabilities Teacher/ Counselor (LDST/C), and Horse Powered Reading™ Facilitator
Vera became a PATH Intl. Registered Riding Instructor in 2007, a PATH Mentor in 2010, and an Equine Specialist in Mental Health and Learning in 2013 as well as ESMHL Faculty in 2022. She taught special education classes for 11 years and is a learning disabilities teacher/counselor. After retiring from a career in law and moving to Pennsylvania in 2012, she began volunteering as an instructor. She has also served on GAIT's Board of Directors and Advisory Council.
---
Board of Directors/Advisory Council
The staff, volunteers, and program participants would like to thank GAIT's Board of Directors and Advisory Council for their commitment and dedication to GAIT Therapeutic Riding Center.
Their efforts to procure additional funding for GAIT TRC through donations, memberships, grants, and fundraisers have helped to keep program fees as low as possible. Thanks to their tireless efforts, GAIT is able to provide low to no cost services for as many families in our community as possible.
GAIT's Board of Directors
Martha Dubensky, Founder and Board President
Ellen Rafferty, Secretary
Jing Moore, Treasurer
Jennifer VanLouvender
Susan Weber
Lenore Rogan
Vera Remes
Jacque Transmeier
Fran Martone
Advisory Council
Anne Raider
Steve Raider
Eileen Smith
Jill Mann
Connie Harvey
Tracey Grossi
David Ricca
GAIT Partners
The following is a list of organizations that GAIT partners with to bring services to the community.
State/Regional/National Affiliations
Professional Association of Therapeutic Horsemanship International, "PATH International" (formerly known as NARHA) GAIT TRC is a Premier Accredited Member
PATH Intl. Region 2 Member
Certified Horsemanship Association
Council for Education and Certification in Therapeutic Horsemanship
Pennsylvania Equine Council
Local (Pike County)
4-H Club
Girl and Boy Scouts
Pike County Developmental Center
Pony Clubs
Victims Intervention Programs
Pike County Public Library
Children and Youth
Delaware Valley School District